INVESTMENTS, VALUES AND STANDARDS
Our significant and traditional expertise is
based on unrivalled human know-how.
At Sac Citoyen®, our craftspeople have been perfecting and passing down the design process for over 110 years in the Massif des Vosges in France, a region known for textile excellence.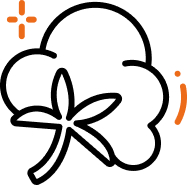 Organic cotton & cotton
Cotton is the most prevalent vegetable fibre in the world. It has been the world's leading textile fibre since the 19th century, benefiting from advances in industry and agronomy. Organic cotton is grown using environmentally friendly practices and meets criteria set by quality charters. It also contains no GMOs. With no chemical pesticides or dyes, it has a soft feel and is hypoallergenic.
Our cotton canvases, woven by Tenthorey SAS in the Vosges department of France, are available in different weights ranging from 70g/m² to 420g/m².
European cotton

We have been using mainly European-grown cotton bearing the EU label since 2020. European cotton is grown in Spain and Greece. This means we can ensure consistent quality and guarantee respectful working conditions.
Recycled cotton
Sac Citoyen® gives priority to the circular economy, using recycled cotton thread of European origin mixed with European new cotton to create resistant 200g/m² canvas. This blend is a recyclable and biodegradable vegetable material with technical characteristics similar to 100% new material.
Linen
Flax is an eco-friendly crop used to make natural linen which is a hard-wearing fabric. One of the few textile fibres grown in Europe, it requires no chemical pollutants or irrigation. France is the world's largest producer of flax, with crops concentrated in Normandy and Picardy.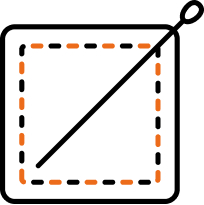 The Massif des Vosges area in France has a long-standing reputation for traditional textile excellence. Sac Citoyen® wears this exceptional label with pride.
It certifies that a product meets precise specifications, particularly for manufacturing in the Massif des Vosges. It guarantees quality products, covering criteria including the environment, traceability and manufacturing methods: www.vosgesterretextile.fr
The canvas used for our bags is woven in Tenthorey's factory in France.
We update our facilities regularly to meet our production requirements and energy-saving commitments.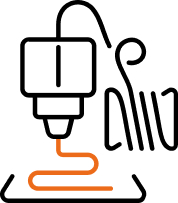 Our workshops make selections based on the following criteria:
– Quality: product and lead times
– CSR policy
– Local providers and manufacturers
– Price
– Sustainability
Spinning
The European cotton we use is spun in Spain, Portugal, Italy and France in cutting-edge spinning mills. We only use open-end yarn for cost efficiency.

Weaving
The fabric used to make our products comes from our TENTHOREY SAS factory in the Vosges area of France where the yarn is delivered and woven. We are committed to offering quality fabric produced in conditions that respect humans and the environment.

Finishing
Finishing includes washing, dyeing and printing the fabric. Our workshops are located in the Massif des Vosges and Rhône areas of France. Of course, they all have purification systems. The inks used comply with the Oeko-Tex label.

Assembly
We propose two production alternatives with a short supply chain:
– Woven, printed and assembled in France
– Woven and printed in France, then assembled in Albania or Tunisia.
We outsource to a workshop based in the Vosges area, making us one of the few fabric bag producers to offer a professional French manufacturing process.
We also work in partnership with BSCI-certified workshops in northern Tunisia and with an Albanian workshop with ISO 9001, BSCI rated A, and SMETA certifications.
These flexible workshops with high-production capacity allow Sac Citoyen® to produce 100,000 bags per week, making it possible to meet urgent orders for large quantities.

Screen printing
Our workshops are located in the Massif des Vosges and Northern France. Oeko-Tex textile inks are deposited on the fabric fibres to ensure impeccable results.
We can print between 1 and 6 colours over an area of 30cm x 34cm on one or both sides of your tote bags. Screen printing is the optimal process for quantities of 300 to 10,000 models. This option is the most cost-effective. We use the Pantone C colour guide.

Digital printing
The printer uses liquid ink to achieve near-photographic quality of colour images. Ideal for industrial marking on flat or curved surfaces, this printing process delivers unrivalled quality and adapts to all our textile products. It is the ideal printing option for 4-colour artwork.
Embroidery
Embroidery adds a flat or raised threaded pattern to fabric for an extraordinary visual with premium effect. We recommend resistant and vivid embroidery on unbleached, coloured and linen products.

OUR CUSTOMERS
OUR CUSTOMERS – vibrant partnerships!
Sac Citoyen® adapts to all requirements, working with a range of customers from different sectors with a variety of needs.
Institutions (ministries, authorities, cultural bodies), mass retailers, specialised retailers, fashion houses, cosmetics brands, sports and cultural associations, and any other customers looking for environmentally friendly textile bags.
Our factory outlet is open to the public on Friday afternoon from 2:00pm to 5:00pm.
Discover the quality of Tenthorey SAS fabrics on site in our factory. Meet our textile specialists who are ready to guide and advise you on your project. Fabric only sold in our factory TENTHOREY SAS – Zone Industrielle La Plaine 88510 ELOYES.